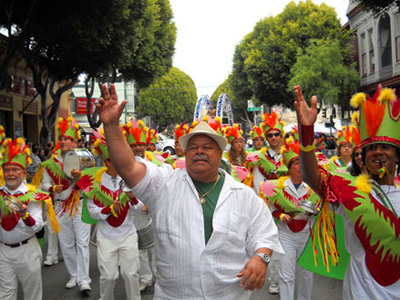 Balanço Brasil Presents: Samba de Raiz
Dance lesson at 7:00 pm with Weslei Guimarães; Show at 8:00 pm
Samba de Raiz is a Bay Area based collective devoted to performing acoustic "roots samba". Samba de Raiz was formed in 2008 when members of local choro quartet Grupo Falso Baiano reached out to Rio-born percussion master Jorge Alabê to form a new project dedicated to performing a rarely heard variant of samba music.
The Bay Area samba scene is rich with numerous "MPB Samba groups" and "Pagode Samba groups". While the former is typified by electric instruments and drum kits, and the latter a frenetic party vibe and roar of 4-8 percussionists, Samba de Raiz sets itself apart in its elegant use of bandolim (Brazilian mandolin) and 7 string guitar, laced with flute and clarinet fills, over a groove anchored by one the Bay Area's best known local treasures: Jorge Alabê (leader of Oakland's Samba Rio samba school). Samba de Raiz also has one of the most unique repertoires in the Bay Area. There are no other bands dedicated to performing the sambas of the 'golden years', featuring music by Cartola, Candeia, Paulinho da Viola, Roberto Ribeiro and others. Featuring special guests Catia Machado (from Rio de Janeiro), and Brian Rice (percussionist from Berkeley Choro, Danilo Brito, etc), plus Grupo Falso Baiano members.
The evening begins with a Samba de Gafiera lesson taught by master dance teacher Weslei Guimarães, from Rio de Janeiro. Guimarães was runner up 2018 SF Carnival King, and is an expert in Samba de Gafeira – a style he will teach for beginners and intermediates at 7pm.
Jorge Alabê – vocals, percussion
Catia Machado – vocals, percussion
Brian Moran - 7 string guitar, vocals
Zack Pitt-Smith - reeds/percussion, vocals
Jesse Appelman – bandolim, vocals
Brian Rice – percussion