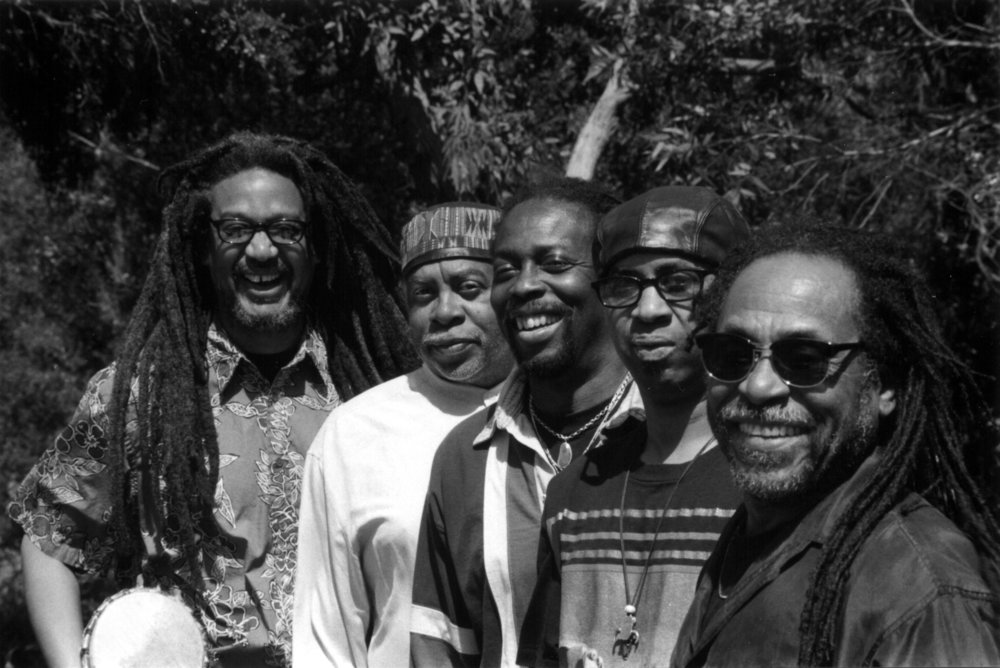 David Nadel All-Star Winterfest with Zulu Spear, Baba Ken Okulolo and Caribbean All Stars
Fri, Dec 21, 2018 at 8:30pm
Ashkenaz Celebration and Fundraiser: tickets are $10 - $200 Sliding Scale
Baba Ken Okulolo at 8:30 pm
Zulu Spear at 9:15 pm
Caribbean All Stars at 10:00 pm
Join us for a rare and special All-Star line up in celebration of the life and vision of Ashkenaz founder David Nadel! David's brilliant vision for an intercultural space founded in folk dance blossomed into one of the Bay Area's most celebrated venues for music and dance of the world.
Zulu Spear, Baba Ken Okulolo, and the Caribbean All Stars were among the first ensembles to grace the stage at Ashkenaz. They are at the foundation of one of the first venues in the country dedicated to world music and dance.
As the era of the Summer of Love came to a close, these are the groups and this is the venue that got the Bay Area dancing together to the sounds of Africa and the Caribbean.
This is a rare opportunity to experience Ashkenaz History and celebrate David Nadel's vision in one raucus night of music & dance.
Zulu Spear
Zulu Spear brings South African, reggae, and world music to life with high-energy theatrical performances of African traditions.

The show will have your heart beating to the grooves, lips moving with the lyrics of the unique acapella harmonies, brilliant electric and acoustic instrument arrangements and production of this live musical event.

Zulu Spear's lineup consists of original members: Gideon Bendile (lead vocals & dancer), Morgan-Nhlapo (vocals & dancer), Jerome A. Leonard Sr. (drummer & vocals), Ron Van Leeuwaarde, (guitar & vocals) and the newer members: Jennifer Jolly (keys & vocals), Scott "Sven" Vento (keys & trumpet), Patrick Owens (bass), Piwa (lead vocals & dancer), Kemi (vocals & dancer), Moekitse (percussion, vocals & dancer).
Babá Ken Okulolo
Babá Ken Okulolo is a beloved SF Bay Area-based Nigerian bandleader, vocalist, bassist, teacher and multi-instrumentalist, one of the few popular African musicians of today whose roots extend deep into his country's musical history.
He now leads several distinct African bands and teaches students of all ages. His lively performances, recordings, drum circles, and classes spread an uplifting message and bring the joy of African music to every audience.
Babá Ken was first seen in the U.S. as bassist on King Sunny Ade's world tours. He is known for his work with Nigeria's legendary Afrobeat creator Fela Anikulapo Kuti, highlife master Dr. Victor Olaiya, and the seminal Afro-rock group Monomono.
He has countless Nigerian and American recording dates to his credit, and the Nigerian Journalists' Association five times voted him the country's top bassist. He founded the international super-group Babá Ken & KOTOJA, famed for its bubbling brew of Afrobeat, highlife, juju, and jazz, and which inspired the start-up of Putumayo World Music.
The Caribbean Allstars
The Caribbean Allstars are pioneers in the Bay Area reggae scene and longtime regulars at Ashkenaz. The ensemble, whose geographical roots range from Jamaica and South America to West Africa and the U.S., began joining together their musical forces and international backgrounds during the early 1970s. Out of such predecessors as Obeah and the Sons of Creation, the Caribbean Allstars were formed and became the founding fathers of Bay Area roots reggae. Although many musicians have come through the band since its founding, it has long been guided by its director, Trinidad-born drummer Hugh "Sweetfoot" Maynard. The Caribbean Allstars not only play Jamaican reggae with a traditional electric bass-drums-guitars-keyboards lineup, but also add steel drums to bring in South Caribbean calypso and soca styles of Trinidad and Tobago, producing rhythms that drive listeners to the dance floor. Over the years the band has performed with an array of talent sitting in, including Taj Mahal, Narada Michael Walden, and Carlos Santana. Santana played on their second album and introduced them as "my favorite band" at the 1987 Bay Area Music Awards (Bammies). The Allstars were featured on Ashkenaz's 30th anniversary CD and have for many years been one of the core bands of the extended Ashkenaz world music and dance community.